OP 450GS
Description
Mini Open-Side Fusing Press Machine OP-450GS
Description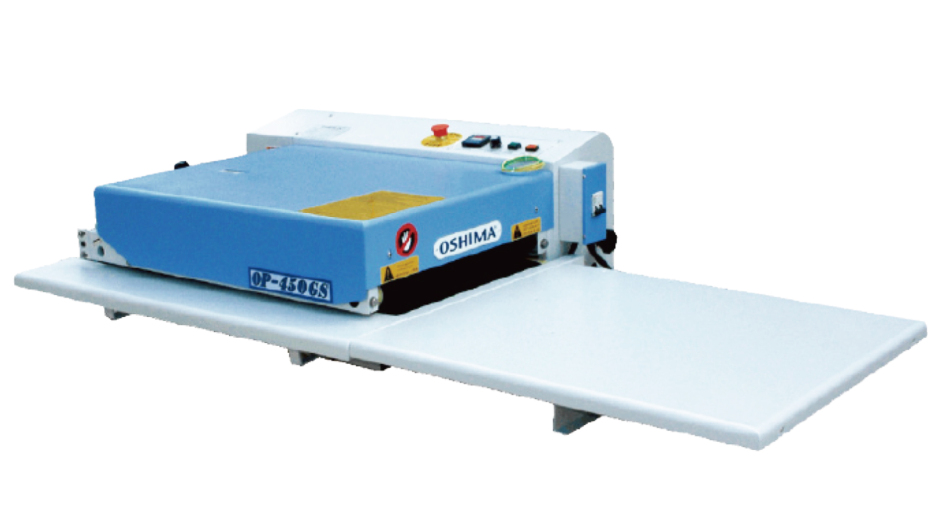 Application
For the interlining and fabrics fusing.
Features:
Compact type that can be moved easily to any places.
Side-open style: Fit for the bigger fabrics and various sizes.
Rotary Strip-off device for strengthening the stripping off function and avoid transforming of the finished fabrics.
Equipped with the super linear guide belt to prevent the belt from warping, and extend the duration of the belt.
Equipped with the special-designed pressure mechanism to ensure the maximum pressure strength up to 1kg/㎝².
Electronic thermostat and the special-made heating equipment minimize the temperature differences.
Use the excellent heatproof Teflon belt. This patented Teflon Belt is easy of maintenance and clean.
Powerful ventilate fan to lower the temperature of electronic components from damaging.
OP-450GSL and OP-520GSL: L series is the longer bottom belt for more efficient work.
* Caution:
As some of molds are sharp, please use molds carefully, to prevent damaging the Teflon belt.
Do not put any sharpening or hard materials in the machine.